Sustainable Materials / Eco-Friendly Apparels and Uniforms

Sustainability is a getting more important. Slowly but surely, companies are consciously practicing corporate environmental responsibility and asking for 100% Recycled Materials for their gift options and apparels. We provide certification upon request for our products.
A Green environment enables longer use of Earth's resources for future generations to come.

Attaining your corporate environment sustainability targets
Companies can hope to achieve their environmentally sustainability targets by switching their uniforms to be made from 100% Recycled PET bottles. Apparels made from such materials as comfortable as virgin materials, and not inferior in any way whatsoever.

By repurposing these "rubbish" plastic bottles for a practical usage, we will reduce the amount of waste entering into landfills. In choosing not to use new materials to generate new uniforms, we are effectively closing the loop, ensuring no new wastage is created.
Sustainability targets which focus on reducing carbon footprints by given timeline, reducing water usage, reducing transportation costs and pollution to our environment, etc, can be achieved simply by switching to sustainable material source for your uniform needs.
100% Recycled Polyester (Dri-fit)
Our brand of fabrics made from Recycled PET (Plastic bottles) are soft to the touch, and comfortable to wear compared to other brands. It is estimated that it takes about 14 recycled plastic bottles to make a new shirt. Both environmentally friendly and ecologically friendly.
Why rPET?
rPET stands for recycled PET (or Polyethylene terephthalate) plastic. PET is it is one of the most common plastics in the world and by recycling it, we are taking a big step to 'cleaning' up the environment.
Most of us know by now that by reducing resources to make new polyester materials, we are saving energy, as well as carbon dioxide and other harmful elements to the taken environment.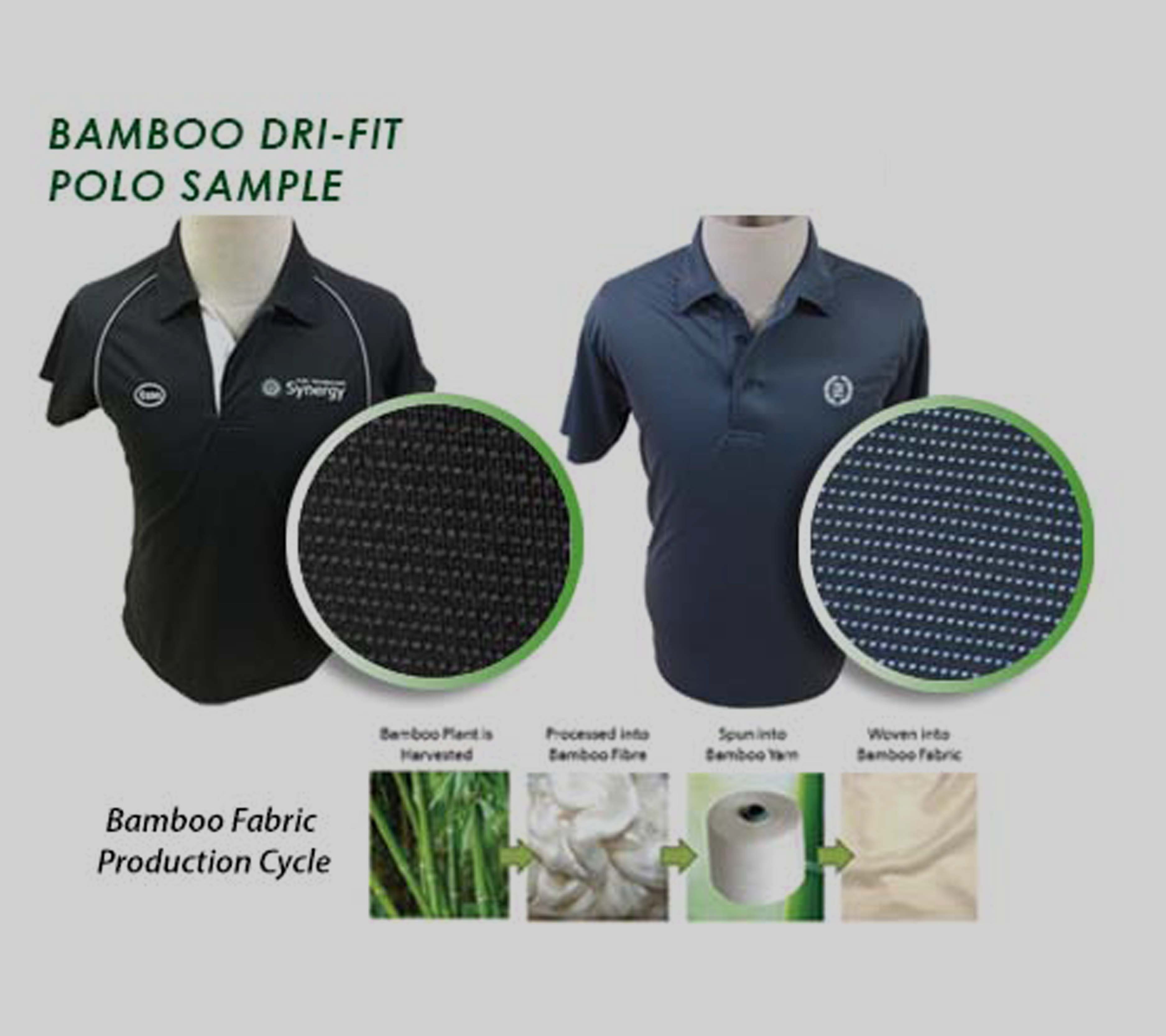 Bamboo Dri-Fit
Bamboo Dri Fit packs a lot of beneficial aspects onto the shirt. Things such as Quick Drying properties, comfort, anti-shrinkage, and color fastness are inherent to this fabric. And best of all, it is a sustainable, eco-friendly material.
Why is Bamboo Dri Fit considered eco-friendly?
Because bamboo is easy to grow, it requires only a fraction of the amount of water needed to mature. Compared to its competitor Cotton, it requires much less time and water to grow. So the amount of resources needed to grow it is comparatively less.
Naturally Anti-Bacterial
Bamboo Dri Fit is naturally anti-bacterial. So you don't have to worry for foul odors after repeated wearing of the shirt.
Naturally UV-resistant.
Another benefit of Bamboo Dri Fit material is that it is naturally Ultra-Violet (UV) resistant. For working under the hot local weather, this comes as a welcome benefit.
The benefits of Bamboo Dry Fit combines to make it a top class "Green" material to use for your corporate uniform and apparel.
Hybrid
Many people have enquired for blended or Hybrid materials. So what is so good about this material? Basically it is a "best-of-both-worlds" kind of fabric. There is always 2 schools of thought. Some may prefer the familiarity of cotton, while some like the fast drying / moisture wicking function of Dri Fit materials. Why not have both?
Hybrid materials are Wrinkle-resistant and are color-fast. Making them very desirable for multi-function uses and active lifestyle.
Certification of Sustainable Products
We have extensive certification for our range of sustainable products that have been certified by international bodies such as the Global Recycle and Control Union.
These material are then shipped into our factory here in Singapore before manufacturing into corporate apparels.
Labels and Tags
To distinguish our Sustainable Material Apparels from the regular materials, we will then sew Green labels or Tabs indicating a sustainable source for the materials. This can be located either at the size label or a "bottle" tab on the side of the body